Essential Fatty Acids Item #: 82165
---
Multi EFA
Supplement Facts
The body needs three essential fatty acids (EFA's) to properly metabolize fats. Although found in most "raw" vegetable oils, EFA's are converted to trans-fatty acids when heated or oxidized. Unfortunately, trans-fatty acids cannot be used by the body and have been linked to potentially serious health conditions.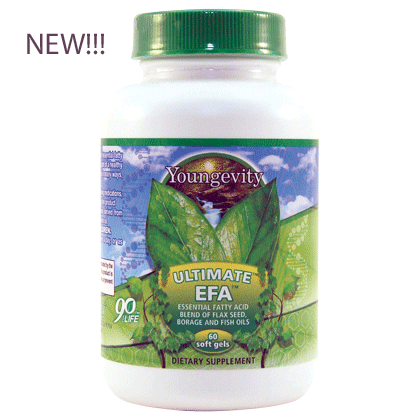 Multi EFA is a special blend of three excellent EFA sources.
Flaxseed oil contains important omega-3 factors and naturally occurring co-factors such as magnesium and potassium.
Evening primrose oil is one of the most concentrated sources of linoleic acid (the most important EFA for fat metabolism).
Borage oil is an excellent source of gamma-linoleic acid (GLA).
For best results, add Multi EFA to your daily full spectrum regimen. Essential Fatty Acids

Nutritional Information**

Two Soft Gel caps Contain:
Borage Oil 510 mg
Evening Primrose Oil 340 mg
Flaxseed Oil 850 mg
--------------------------------------------------------------------------------

Suggested Use: Suggested Use: Two or more soft gel caps daily or as directed by your Health Care Practitioner. One bottle provides a 30 day supply.
---
Essential Fatty Acids For Optimum Health

MULTI-E.F.A.
Essential Fatty Acids For Optimum Health

What Makes Multi-E.F.A. Different?

Multi-E.F.A. has been specially formulated to provide your body with both omega-3 and omega-6 fatty acids. Containing Flaxseed Oil, Borage Oil and Evening Primrose Oil, Multi-E.F.A. is a balanced combination of linoleic acid, gamma-linoleic acid, linolenic acid and arachadonic acid.

Facts about

Facts About Essential Fatty Acids

Some fatty acids are essential to the health of the body as it needs certain of these to maintain good health. Because we cannot make them, these fats are called Essential Fatty Acids (EFAs). Research has shown that EFAs positively affect the body's internal functions, including circulation, blood pressure, inflammations, joint integrity, and the immune system. EFAs are also used by the body to produce powerful, hormone-like compounds called Prostaglandins, which regulate cellular activity.

Over 30 different Prostaglandins have been isolated, each with highly specific functions. These functions range from muscle tone to circulation to ensuring oxygen availability to the tissues. Prostaglandins have a very short life-span, which is why the body needs an abundant supply of EFAs.

There are several types of essential fatty acids. Among them are the omega-3 and the omega-6. Omega-3s are extremely important, as they se thirty percent of certain membranes in nerve cells in the brain. The best sources of omega-3 EFAs are found primarily from cold-water fish oils or in flaxseed. Linolenic Acid (LNA) is an omega-3 fatty acid, and it's essentialness lies in the fact that it cannot be made in the body and must therefore be consumed.

Omega-6 fatty acids affect the balance and equilibrium of the body. The omega-6 fatty acids are primarily plant-derived oils and the best sources are Borage Oil and Primrose Oil. Linoleic Acid (LA) is an omega-6 fatty acid and like LNA, it cannot be produced in the body and must therefore be consumed.

Usage

Suggested Use :
Take two capsules a day or as directed by your Health Care Practitioner.

---
RELATED ARTICLES


ESSENTIAL FATTY ACIDS:


Pantothenic acid


Pro-Flow**


VITAMINS:


SUPER NUTRIENT


TOMATO WARNING !DON'T BE FOOLED BY TECHNOLOGY


Specialized Nutrition


Biotin


MANGANESE ?


Vitamin E anti-oxidant


THE MYTH OF THE BALANCED DIET?


NIACIN


Pro Flow