COLLOIDAL MINERALS
Sugar-Eze
Sugar-Eze is designed to nutritionally assist the body in the regulation of blood glucose (blood sugar). It is well documented that both the trace minerals chromium and vanadium have dynamic and positive effects on normalizing blood sugar for both low blood sugar (hypoglycemia) and high blood sugar (diabetes)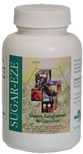 Diabetes and Hypoglycemia are estimated to affect one in five Americans,t near epidemic proportions.
In addition to aspartic acid and bilberry extract, Sugar Eze contains chromium & vanadium which have been shown to be essential for normal glucose metabolism.* Perhaps that's why it's consistently one of our biggest sellers!

Suggested use: 3 tablets daily with each meal. After 30 days reduce to 2 with each meal or as directed by your health professional.
Sugar-Eze

Sugar-eze 120 tablets

---

This product should be taken with Mineral Toddy and Total or Ultra Toddy.

---

---

Each Capsule Contains

Aspartic Acid
500 mg*
Chromium
100 mg*
Vanadium
500 mg*
Bilberry Extract
20 mg*

RDI - Reference Daily Intake
* - RDI not established

---

RELATED ARTICLES

Diabetes screening guidelines strengthened
Whom might benefit from the use of Sugar-eze?
Data on Diabetes
Will your Sugar-eze product help my 9 year old son who has diabetes?
Diabetic with heart disease and asthma.
Colloidal Minerals: CHROMIUM ?
Sugar-Eze
Why do you say that ratio of nutrients is more important than potency?


REQUEST YOUR FREE EAGLE PRODUCT INFORMATION PACK: INFOPACK@eagle-min.com